This article is a stub.
Please help Bottom-Tier Character Tomozaki Wiki by expanding it.

Hanabi Natsubayashi (夏林花火, Natsubayashi Hanabi) is a supporting character and one of the heroines in the Jaku-Chara Tomozaki-kun series. Nicknamed "Tama" by her friends, Hanabi is a blunt and unsociable classmate of Fumiya Tomozaki. She has a close friendship with Mimimi who is her polar opposite.
Appearance
She has wavy short bob hair with a biscuit color and brown mocha eyes.
Personality
Her blunt nature often leaves her disliked. Once, it got her into trouble as she openly condemned Erika's actions of harassment and bullying, thus making her the target of bullying herself.
Story Overview
*Information will be added soon later.*
*Information will be added soon later.*
*Information will be added soon later.*
*Information will be added soon later.*
*Information will be added soon later.*
*Information will be added soon later.*
*Information will be added soon later.*
*Information will be added soon later.*
*Information will be added soon later.*
*Information will be added soon later.*
*Information will be added soon later.*
Relationships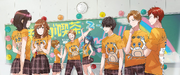 Trivia
*Information will be added soon later.*
Gallery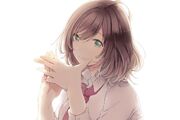 References